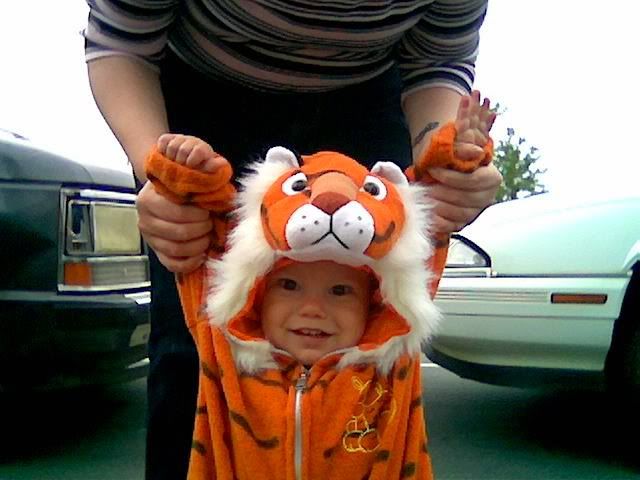 Hard to believe my grandbaby turned a year old Wed. He is wonderful.

So much to cram into 2 weeks of training. They train 2 weeks, then put us on the 'floor' to do real calls for another 2 weeks, then we are on our own.
Heaven help the poor person that I get on my very first call.
Another day of work. Sounds funny after so long being at home.
Current Mood:

nervous

Job is going okay, but boy is it alot to absorb. Makes me feel inadequate, but I'll get there. Not much time now but I did want to update.
In a hurry!!!!!!!!!
Current Mood:

pensive
For update pictures of Baby Joey check out my previous entry. Tiff send plenty. :)
Current Mood:

bouncy

Kee had to put up a child size hand rail at the front door, which I am glad of. Two small steps going into the front door doesn't seem like much, but it is for little legs.
I am still having a hard time finding that last substitute I need. I mean, really, I can see why someone wouldn't want to take the time to get a TB test, and take the CPR/First Aid class unless they are going to work full time. There has to be someone out there that is just a daycare sub. And besides, the pay really sucks.
I have parents asking me all the time if I have opened back up, and I am tired of saying no. I'm ready to say "Heck yeah!".

Now on to the daycare to get some stuff done, and laundry...the ever building laundry pile........
Kee's fingerprints/ clearance letter finally came in. Now we are waiting for MIL's, then I can have my daycare license application started. I will make sure I don't let anything mess up once I get those suckers in my hands.
Current Mood:

complacent


Such a tragedy in London today. My prayers go out to the country, and friends of mine that live there.
Today is my 18th wedding anniversary. What a wonderful 18 years.


The ball is still rolling around concerning my daycare. Kee and Frances's fingerprints have been mailed. I'm awaiting the application of a friend of mine, to work for me.
And then I can call DHR to come and inspect. I am soooo ready.
Not just financially, but there are other things I miss about it. For one, is the feeling of professionalism. I knew I was good at my job. Taking care of children is the easy part, making it a proffession is the working part for me.

Right now I'm just at home. Cooking, washing clothes, cutting grass, trying to keep up two households. The dryer quit at my MIL'S, so now I wash and dry all the clothes at the daycare, then bring them back over here. When our finances pick up I'll have the dryer fixed.
Kee parked his big truck a few months ago and started driving a company truck. He goes from here, Lanett, through Montgomery, Dothan, Pensacola Fla., then back. He does the same route, and is home every night. I'm glad. It has taken some getting used to, by both of us.
I get up around 4am, fix his lunch, a thermos of coffee, and send him on his way.
Money wise he is making more. The mechanical problems on his truck, then the fuel going so high forced him to park it. Now if we can just sell it.

I must go now and cut the grass. Was going to do it yesterday but I wasn't feeling well.
Just thought I would up date. I'll come back later, hopefully, to catch up on all my friends.
Current Mood:

hot
Happy Birthday Casey
My baby is is 16 today!!!!!!!!!!!!!!!!
Current Mood:

bouncy
Current Mood:

indescribable

What Is Your Animal Personality?
brought to you by
Quizilla
Current Mood:

awake